Environmental advocate: 'No investor should even think of touching this company'
Published Dec 14, 2022  •  Last updated Dec 14, 2022  •  8 minute read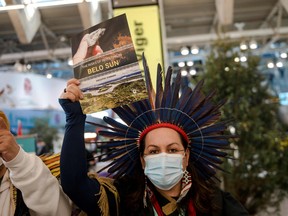 A Canadian gold miner has found itself under attack by a powerful environmental group seeking to starve it of investment dollars in an attempt to block it from building what would be the largest open pit mine in Brazil.
Toronto-based Belo Sun Mining Corp. found a rich gold deposit about 1,000 kilometres northwest of the Brazilian capital of Brasília in 2015, and now plans to build an open pit mine in the Brazilian rainforest near a bend in the Xingu River, one of the largest clearwater rivers in the Amazon basin.
Standing in Belo Sun's way is Amazon Watch, an Oakland, Calif.-based nonprofit with an established track record of pushing international miners out of Indigenous territory in South America by deploying a range of tactics.
Last year, the group asked the Ontario Securities Commission to investigate Belo Sun, and last week it used the UN's COP15 conference on biodiversity in Montreal as a platform to launch its latest volley against the company, releasing a report on Dec. 9 that condemns the Big Bend project.
Amazon Watch alleged the company has misled investors, has inadequately consulted the local Indigenous communities, and that the company's plan to use cyanide as a reagent will have detrimental impacts on the health of humans and wildlife in the area.
"We are putting any institution or company looking to invest in or acquire Belo Sun on notice: this is a bad actor selling a dangerous project," Christian Poirier, Amazon Watch program director, said in a statement. "Anyone looking to get involved with them will be shouldering serious risk and will be complicit in the continued threats to the Amazon rainforest, Indigenous and traditional peoples, and the global climate."
Belo Sun's legal counsel, Kenny Choi, declined to comment on Amazon Watch's allegations before this article was published.
Significant foe
Amazon Watch is a significant foe. The group helped drive the now-defunct, Calgary-based Talisman Energy Inc. and Santiago, Chile-based GeoPark Ltd. from Achuar territory in Peru in 2012, and 2020, respectively; compelled London-based mining giant Anglo American PLC to abandon research permits on Munduruku lands in the Amazon in 2021; and prevented construction of the São Luiz do Tapajós dam in the Amazonian Tapajós river basin in 2016.
These campaigns were multifaceted, said Poirier, targeting companies through their employees, public image and investors. This campaign differs from others in that it focuses on the Canadian mining industry, specifically, and its role in the Amazon, according to Gabriela Sarmet, Brazil campaign advisor for Amazon Watch.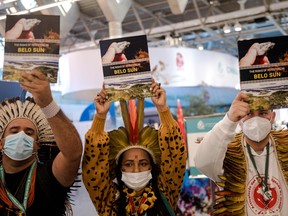 Amazon Watch first accused Belo Sun of misleading investors in a complaint to the OSC in July 2021, and last week amplified its concerns by taking advantage of the media spotlight shining on COP15, a conference with 20,000 delegates, where countries will try to come up with a framework to address the key drivers of nature and biodiversity loss over the next decade.
Belo Sun's project would span 5,930 acres, making it the largest open-pit gold mine in the Amazon rainforest. The company has said the proposed site likely contains 3.8 million ounces of gold, worth more than $8 billion.
Investors put on notice
"No investor should even think of touching this company," Sarmet said in the press release.
The report noted that in a March 2021 interview with the Brazil-Canada Chamber of Commerce (BCCC) at the Prospectors & Developers Association of Canada (PDAC), a mining convention, Belo Sun chief executive Peter Tagliamonte neglected to mention the "ongoing suspension and potential cancellation of its environmental licenses," instead attributing the delays to the COVID-19 pandemic.
Later that month, Tagliamonte told CBC that the project had been fully permitted, which Amazon Watch said contradicted the "real status of the project."
An alliance of Brazilian and international organizations, including Mining Watch Canada, signed Amazon Watch's complaint to the OSC, which accuses the company of deliberately "disseminating misleading and incomplete information to investors."
Amazon Watch said it has yet to receive a response from the OSC. When asked for comment, a representative wrote in an email, "As a matter of general policy, the OSC is unable to confirm or comment on the existence, status or nature of any complaint, review or investigation."
Meanwhile, in a July 2021 press release, Belo Sun said "it understands and respects that there will be differing views on mining projects and there will be strategies to advance these views."
The release continued, "We believe the Volta Grande gold project will bring positive benefits to the local communities, Indigenous communities, municipality and region while also ensuring good environmental compliance, positive environmental opportunities and create broad economic benefits, making it a project worthy of support from all groups."
The company added that it has always been committed to disclosing "developments in the permitting process" in a timely and accurate manner.
Political change
The Amazon Watch report comes as Canadian miners face increasing political resistance in South America. Last week in Mexico, authorities announced a moratorium on open pit projects, though the impacts remain to be seen. This week in Peru, protesters blocked a key mining highway near the city Cusco, threatening to disrupt production at the Las Bambas copper mine, Reuters reported.
Political risk is a feature of mining, but a new generation of leaders in Latin American is proving to be more sympathetic to non-profits such as Amazon Watch than the miners that come along promising investment. Back in June, Chilean President Gabriel Boric told Prime Minister Justin Trudeau that mining companies, many of which were Canadian, were reaping revenue without giving back to the countries in which they worked. He added that Canadian mining companies operate differently abroad than they would in Canada.
Poirier echoed this, saying that there is a lack of accountability and scrutiny for Canadian mining companies in South America.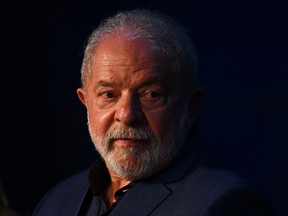 Brazil had been a relative refuge for global miners in recent years thanks to the administration of Jair Bolsonaro, a right-wing populist who put development ahead of the environment. However, in October, Brazil elected left-leaning Luiz Inácio Lula da Silva, who has vowed to bring deforestation in the Amazon to zero.
With Lula in power, "I feel more optimistic," said Sarmet.
'No water'
The Agrarian Court of Altamira, a municipality in the Brazilian state of Pará, ordered the suspension of Belo Sun's environmental and construction licences in May, according to a press release put out by the company. The licences would be suspended until the company could conduct a "socio-environmental study" and the "prior, free and informed consultation and consent" of the riverside peoples.
Then, in July, the company alerted shareholders that Brazil's Supreme Court of Pará state had overturned the suspension on the grounds that there was "no evidence of damage or harm to the riverside people and that they were properly consulted as part of the environmental studies conducted by Belo Sun."
The court said that "there should be no obstacles for Belo Sun to continue with the environmental licensing process while complying with the legal requirements determined by the applicable environmental and judicial authorities," the July press release continued.
Despite this, the Amazon Watch report expressed concerns about the company's plan to use cyanide in its gold extraction process, as detailed in the company's most recent feasibility study, which was published in 2015.
Cyanide is commonly used to recover gold, in a process called "gold cyanidation," and is "very efficient and effective," according to the Canadian Mining Journal. But advocacy groups such as Earthworks say that cyanidation is "highly toxic, and can result in substantial environmental impacts and public health risks if released into the environment." They added that cyanide can persist in the environment and contaminate drinking water aquifers.
It's happened before. In late 2021, Brazilian regulators fined Vancouver-based gold miner Great Panther Mining Ltd. for alleged cyanide leaks from its mining operations in the country, which they said killed local fish populations.
"The Volta Grande (Big Bend) region cannot support another mega-development project," Sarmet said. "It wasn't able to support Belo Monte."
Belo Monte, the world's third-largest hydroelectric dam, is located 20 kilometres from Big Bend. The dam reduced the Xingu River's flow by 80 per cent, according to the Nasa Earth Observatory. "The reduced flow along the bend has produced new dry areas," the Observatory wrote in an article. "The drying is reported to have affected the aquatic life — such as turtles and fish unique to the Volta Grande — and a number of Indigenous tribes living in the area."
The Indigenous Peoples consider themselves responsible for the river, said Bel Juruna, an Indigenous leader from the region impacted by the project, in a panel hosted by Amazon Watch at COP15 on Dec. 9.
"All of our water has been diverted," she said. "We have no water in our region."
No consultation
It's unclear who has the upper hand, Amazon Watch or Belo Sun, although investors seem to have growing doubts about the company's prospects: the value of Belo Sun's shares plunged more than 50 per cent on Dec. 12 and were down more than 80 per cent on the year.
There is little doubt in Bel's mind about what happens to her community if the mine is developed, which she probably would have shared with Belo Sun if it had asked.
The Amazon Watch report said that there had been inadequate consultation, on the part of Belo Sun, with the Indigenous communities in the area, specifically the Arara do Pará and Juruna peoples.
Initially, the distraction of the Belo Monte dam pulled Bel's attention from Belo Sun's activities in the region. "We didn't know what they were here," said Bel. "We didn't realize they were here carrying out studies," she said. "The environmental study is not a consultation process."
Bel said she doubts her community will be able to continue living in the region if Belo Sun goes through with the construction of the mine.
"I ask you to be aware that Belo Sun would be a total extermination for my people, and we wouldn't have a future," Bel said.
• Email: mcoulton@postmedia.com | Twitter: marisacoulton
SOURCE: https://financialpost.com/commodities/mining/canadian-gold-miner-belo-sun-accused-misleading-investors